Effortless elegance has always been a hallmark of the French style. French women created a beauty routine that makes them look and feel beautiful at the same time. The secret is simple: figure out what suits you best, do not follow the trends – set them, and use less – it is always more.
Here, in America, we agree that there is no the "right" way to be beautiful, but what really matters is how you feel about yourself. Your age does not matter but your right to be smart, witty, cultured is important as much as having great skin.
Following those ideas, our brand, La Salle BOTANIQUE offers you wonderful botanical beauty solutions à la French that will make your skin glow in no time. We believe that good skincare is not about using trendy, hyped, or super expensive products, but about using the most potent and effective ingredients – the ones that work for you and your style.
In La Salle BOTANIQUE, we handcraft unique, from the recipes to the designs, deliciously scented, with a texture that feels wonderful on the skin, natural as possible beauty care for different skin types and their specific needs. Using our beauty products daily, you feel refreshed, relaxed, or energized enough to tackle everything else on your to-do list.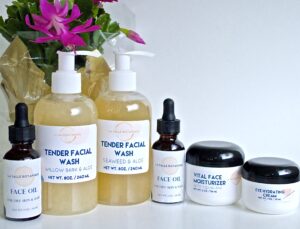 La Salle BOTANIQUE means 'the botanical room' in French. These amazing, peaceful places were originally designed by French to introduce people to wonders of nature from all over the world, increasing our knowledge about the planet we live.
Our brand combines powerful botanical ingredients from the world fair trade sustainable sources and the last achievements of cosmetic industry to help you look unique and uniquely beautiful.
Diana de Gratigny,
Owner of La Salle BOTANIQUE