Hello,
My name is Diana. I handcraft botanical moisturizers. Any product of my beauty brand, La Salle BOTANIQUE – cream, gel, balm, cleanser, mask, toner, scrub, shampoo, conditioner, or a soap bar –  properly hydrates, deeply moisturizes, and effectively nourishes the skin.
Born and raised in a megapolis, I am more than familiar with problems of every metropolitan: busy work schedule, lack of personal time, demanding social life, family duties, and a craving for peace, relaxation and nature!
Seasons, air pollution, and stress – are the major factors that make our skin dry, dull, and crinkly. City people are in a great need of effective solutions that will help them to feel feel and look healthy.
The most important task of any skincare routine is to keep your skin moist throughout the day. To create  successfully moisturizing beauty care, I get my inspiration from botanical gardens.
These amazing, peaceful places are designed to introduce us to wonders of nature from all over the world, increasing our knowledge about the planet we live.  Following this idea, my brand, La Salle BOTANIQUE, combines powerful botanical ingredients and the last achievements of cosmetic industry.
To help you to get that healthy and glowing look, I create unique, from the recipes to the designs, beauty care with high-quality, organic, fair trade products and cutting-edge lab ingredients.
I spend a lot of time formulating beauty care while paying attention to the different skin types and their specific needs. I constantly monitor my product performance and appearance, and continue to develop and design new products to meet the needs of my clients.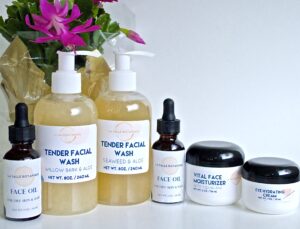 La Salle BOTANIQUE skin and hair care & home accessories are always freshly made in small batches. Everything I make is handmade from the product itself to the labels.
Each La Salle BOTANIQUE product is made with love to natrue, thought about health, and care for your skin!
Diana de Gratigny,
Owner of La Salle BOTANIQUE